The use of analytics has become a commonplace tool for marketers to learn about their customers, but there is much more that can be learned. This article explores how data science and machine learning are being applied across different industries in order to provide valuable insights about customer behavior and market potential.
The "customer experience analytics framework" is a way to help companies focus on customer satisfaction. It can be used in many different ways, such as to provide feedback and suggestions for improving your products or services.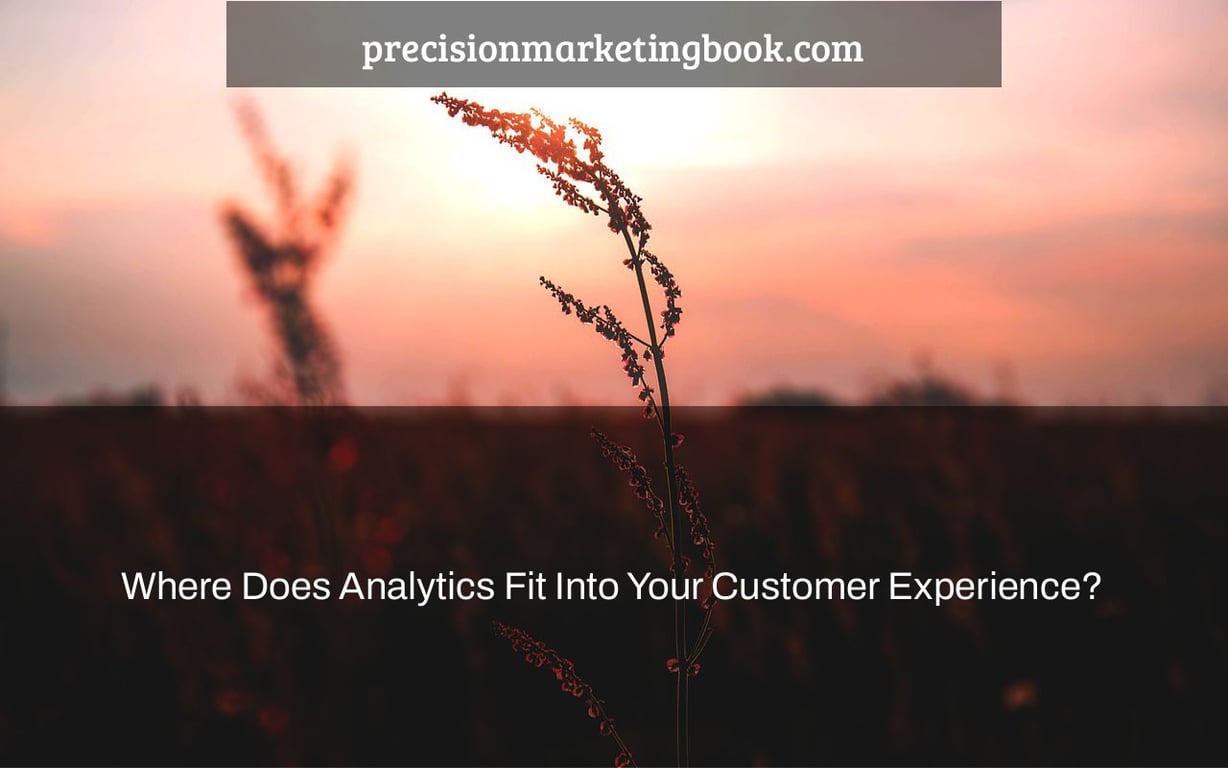 Do you want to improve your client experience in a simple way? Then take a look at your customer experience data.
The numbers don't lie. It informs you what you're doing correctly and incorrectly. You obtain the required knowledge to provide prospects and buyers the finest possible service after you've equipped yourself with customer experience analytics.
When you create a fantastic client experience, you increase efficiency, personalize your service, and increase loyalty and referrals.
Nonetheless, according to a PWC survey, 54 percent of customers believe that many organizations' customer service might be improved.
Examining your CX metrics, though, has other advantages.
For example, 44.5 percent of worldwide firms believe that exceptional customer service distinguishes them from rivals, and who doesn't want to be noticed?
You now understand the value of customer experience analytics. In this post, I'll show you which ones you should track and why they're so important to your company.
What Is Customer Experience Analytics, and How Do I Use It?
Customer experience (CX) analytics aims to enhance customer interactions by analyzing customer data.
You may use the information to monitor client behavior and preferences to learn more about how they engage with your business and its goods or services. You may then utilize this data to enhance the customer experience by altering the design of your goods or services, how you promote to clients, or how you deliver your products or services.
Customer data may be collected in a variety of ways. Various data sources are often used by customer experience analytics systems. Website visits, purchase history, contact centers, and social media data are some of the most prevalent sources.
The Advantages of Customer Experience Analytics
Analytics for customer experience may help firms offer a better CX quicker and more consistently by studying consumer behavior and preferences. CX analytics may also help to create a pleasant customer experience by detecting and fixing problems early on.
Some of the advantages of monitoring your analytics are listed below.
Customer happiness tracking: Customer experience analytics can measure customer satisfaction over time, which is perhaps the most important advantage. Companies may use this data to discover areas where they need to make adjustments in order to keep their consumers pleased.
Understanding client interactions: Customer experience analytics helps you understand how consumers engage with your goods and services by evaluating your data. This information may then be used to improve the customer experience and boost sales.
Lower customer churn: When used effectively, customer experience analytics enhance the customer experience while also lowering churn rates. For instance, if a large number of consumers are calling customer care about the same problem, you may solve it. This is important since customer desire for a good CX is growing. According to Zendesk, 54 percent of customers believe firms treat it as an afterthought.
Focused marketing campaigns that convert leads into customers and promote loyalty: Understanding customer behavior allows you to build targeted marketing efforts that are more likely to convert leads into customers and encourage loyalty.
Predictive customer experience analytics may identify high-value consumers in terms of lifetime value and customer happiness, resulting in increased value and decreased cost. It does, however, locate high-value, disgruntled clients. When you have this knowledge, you may spend money strategically and save money. According to McKinsey, one corporation used this strategy to trim approximately 25% off their intended expenditure.
Customer Experience Analytics Metrics to Consider
The discipline of customer experience analytics (CEA) is rapidly expanding. With this in mind, it's critical to use the appropriate metrics and analytics tools for measuring customer experience in order to get the most accurate findings.
While there are a number of measures you might concentrate on, we'll stick to six of the most important.
To begin, consider the promoter score.
Score of a promoter (NPS)
Customer feedback and loyalty are used to calculate your net promoter score (NPS).
While there are other methods for calculating NPS, the most popular is to utilize a 1-10 scale, with 1 indicating extreme dissatisfaction and 10 indicating extreme satisfaction. Customers should be asked how likely they are to refer your firm on this scale to receive an accurate assessment.
You may also use a free calculator or one of the tools on this page.
Customer retention, brand recognition, and customer acquisition all improve with a higher NPS score.
Taylor & Hart, a jewelry manufacturer, is an outstanding example.
NPS is the most essential measure for them. The firm saw a 70% boost in sales after concentrating on it, breaking it down, and implementing the data.
Although you can't guarantee the same outcomes, you may follow Taylor and Hart's lead by:
selecting and gathering your most important stats
Organizing the data and assigning a score to your NPS
Continue to monitor your NPS and make adjustments.
By keeping track of the NPS, the firm can:
For its most popular designs, the company uses spotty patterns.
discovered the company's top client categories and average revenue
regional campaigns were identified, as well as how buyers discovered them.
their advertising was optimized
2. Score of Customer Satisfaction (CSAT)
CSAT is a metric that measures how pleased consumers are with a product or service.
Customer satisfaction ratings (CSAT) are used by many businesses to measure their customers' overall contentment and highlight areas where they may improve.
When you keep track of your customer satisfaction metrics, you can:
Find out which clients are dissatisfied and which are pleased.
Prioritize the areas of your company that want improvement.
improve your internal procedures
provide recommendations for future product development
Despite the fact that customer satisfaction is one of the most important customer experience metrics, Gartner discovered that more than 70% of "CX executives struggle to create initiatives that build customer loyalty and accomplish outcomes," according to Gartner.
CSAT data may be collected in a variety of methods, but the most typical method is to ask customers to assess their satisfaction on a scale of one to ten. You may use surveys, feedback forms, or chatbots to do this. You may also make use of a free calculator.
A CSAT score of 75-85 percent should be your goal. There are, however, some distinctions between the groups.
3. Score for Customer Effort (CES)
The customer effort score (CES) statistic determines how much work a consumer believes they put in while dealing with a business.
The Customer Experience Score (CES) is calculated by averaging the replies to questions concerning how much effort the customer believed they put in during their most recent engagement with your organization.
Businesses should concentrate on making adjustments to lessen the amount of work consumers have to perform to acquire what they want by identifying areas where they are experiencing high levels of effort.
But there's more to it than that.
When you get your CES right, you'll see an increase in customer happiness and loyalty, as well as a reduction in the expenses of dealing with customer complaints or support requests.
Furthermore, when CES is high, according to Gartner:
The NPS rises.
Repurchase rates might rise by as much as 94%.
Employee retention is increasing.
Understanding client satisfaction ratings is less accurate than your CES score.
Gartner's Andrew Schumacher, Senior Principal, Advisory, says:
"Customer effort is 40% more accurate than customer happiness in predicting customer loyalty," says the study.
Use this free calculator to figure out your CES. Although there is no uniform CES score, the greater the score, the better.
4. Turnover Rate
Churn rate is an important measure for businesses to monitor since it reveals why customers depart and what you can do to keep them. Most firms pay attention to this indicator since excessive customer turnover is expensive and results in revenue loss.
The most popular method for calculating customer churn rate is to divide the number of customers who have ended their association with you by the total number of customers at the start of the period. This will tell you a percentage of how many clients are left over at any particular time.
The typical churn rate is 5-7 percent, with a ten-percentage-point churn rate being quite high. It does, however, depend on the industry. For example, internet shopping has a turnover rate of 22%, whereas big-box electronics has a churn rate of 11%.
Your churn rate may be calculated online. If it's high, check for trends in your customer experience metrics.
Remember that churn is caused by a variety of causes, and organizations may decrease it by enhancing customer experience and measuring their CX metrics. Another strategy to boost customer satisfaction is to provide a superior support system and provide exactly what they want.
Customer Lifetime Value (CLV) (CLV)
From Costco to American Express to Verizon and AT&T, they're also using customer lifetime value as a critical metric with good reason.
CLV is a customer experience measure that helps business owners and CX specialists assess a customer's worth throughout the course of their engagement with them.
It takes into account not just a customer's monetary worth, but also how long they are likely to conduct business with them, how much business they are likely to do in the future, and how lucrative each engagement is.
This data enables you to make strategic choices regarding which sorts of customers to target for acquisition and retention, as well as what kinds of experiences to provide them and when it's time to let them go.
There is an easy-to-use CLV calculator available online. For example, you should aim to make three to five times your purchase cost with your CLV.
Once you have your number, you can apply it. As a Bain & Co explain, you can use CLV to:
segmentation of your current customers
Improve conversions and ROI by learning more about your customers.
build data-driven assumptions about the tools required to acquire and retain customers
New clients should be segmented in order to reduce low-value leads.
make client priority, acquisition, onboarding, and retention choices based on data
However, rather of relying on one or two CX analytics tools, you may want to employ a variety of them in your monitoring. According to Bain & Co, firms are most happy with outcomes when they use a combination of tools. In addition, 92 percent of companies anticipate to use CX experience analytics solutions for customer relationship management by 2023.
6. Participation in social media
On social media, engagement analytics analyze how people connect with your brand. There are many various sorts of engagement metrics, but clicks, likes, shares, and comments are some of the most prevalent.
The value of monitoring social media analytics cannot be overstated. If no one clicks on your article, shares it, or comments on it, you know you need to rethink your content approach.
The explosive growth of TikTok finest exemplifies the possibilities of social media. According to its statistics, 44 percent of monthly users come to the site to learn something new.
Every step of the client journey is impacted by TikTok, including:
discovery
consideration
purchase
After that, consumers return to the site to write reviews, unboxing videos, lessons, and how-tos.
The preceding should be plenty to convince you of social media's importance. If you're already on sites like TikTok, Instagram, and Facebook, make sure you're using Google Analytics, SproutSocial, and HootSuite to monitor your progress.
Analytics for Customer Experience Most Commonly Asked Questions
What sorts of customer experience analytics are there?
CES, CLV, and social media involvement are all examples of customer experience analytics. Marketing analytics software and customer service analytics software, for example, assess the efficacy and quality of customer service interactions. There's also social media, web analytics, and behavioral analytics.
Can I use free tools to measure my customer experience metrics?
Businesses may measure their customer experience metrics using a variety of free tools. Google Analytics is one such tool. Companies may use Google Analytics to measure website traffic, engagement, conversions, and target completions. Survey Monkey is another free tool. Businesses may use Survey Monkey to develop surveys and gather client feedback in order to gauge consumer happiness and loyalty. Finally, Simply Measured, a free social listening and analytics application, may be used for CX analytics.
What role does data analytics play in enhancing the consumer experience?
Data analytics may help organizations better understand their consumers' requirements and preferences, which can enhance the customer experience. Data analytics may also assist businesses in promptly identifying and responding to issues. For instance, if a large number of individuals are complaining about a problem, data analytics may assist firms in determining the source of the problem and taking remedial action.
Why are customer experience analytics important to marketers?
Today, one of the most important considerations for organizations is customer experience. To stand out in a world when customers have limitless options, it's critical to create an extraordinary customer experience. Finally, research demonstrate that enhancing the client experience may boost income and sales.
Conclusion on Customer Experience Analytics
Businesses may benefit from customer experience analytics. By collecting and analyzing client interactions, businesses can enhance customer service and make strategic choices regarding their goods and services.
Businesses can enhance customer service and increase profits by using the correct tools and data.
You must, however, be measuring the proper data. Don't be overwhelmed by the number of metrics you could concentrate on.
The six metrics presented in this article are sufficient to get you started and provide you with a better understanding of what's going on in your company.
You may use a variety of automation solutions to improve the entire CX experience and better optimize your outcomes.
In your company, do you employ customer experience analytics? Which ones are the most effective for you?
Unlock large volumes of SEO traffic using SEO. Take a look at the outcomes.
Content Marketing – Our team develops incredible content that is shared, linked to, and drives traffic.
Paid Media – successful paid solutions with a measurable return on investment.
The "predictive analytics customer experience" is a tool that helps marketers understand their customers better. It can help you answer questions like, "Are my customers happy?" or "What are they buying?"
Related Tags
customer experience analytics use cases
how could it use data to improve customer experience what kind of data would it need to collect
companies using data to improve customer experience
customer experience data analyst job description
customer experience data analysis